MASTER Theoretical Framework
The MASTER theoretical framework identifies and defines key social and emotional domains and the recursive integration and interdependence among these domains. The domains of the MASTER framework describe an integration of executive and social processes that the authors believe to be the essence of self-regulation. This framework is based upon a neural network model that aims to inform the organisation of social and emotional functioning.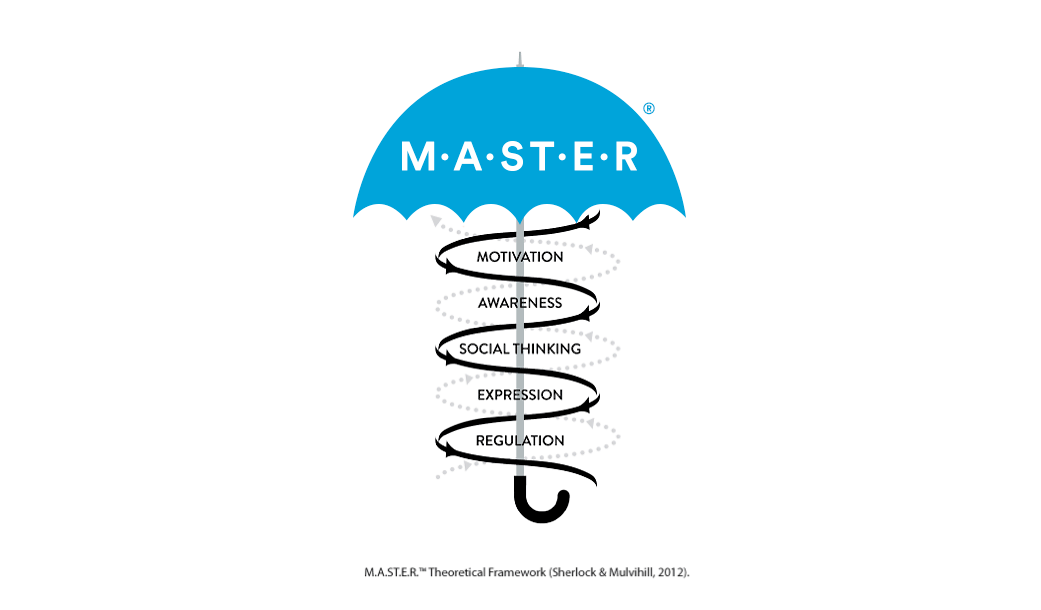 The Social-Emotional Domains of the M.A.ST.E.R Framework Explained
Motivation
Child specific barriers to learning and social engagement, and motivation for effortful engagement in both contexts
Awareness
Noticing important internal emotional cues and external social information
Social Thinking
Interactive perspective taking
Expression
Social communication skills (e.g. 'joining in'; maintaining conversation; assertive communication)
Regulation
Adaptive psychological and social functioning in response to environmental demands
Research
The MASTER theoretical framework has been formulated to explain, predict, and understand social and emotional phenomena and to extend on existing knowledge in this area.
The theoretical framework aims to provide a comprehensive guide to intervention and research. The framework informs the entire process of the authors' intervention from empirically based assessment, systematic case formulation, treatment plan, monitoring of progress, and evaluating the effectiveness of the intervention. Similarly the MASTER theoretical framework guides research endeavours from the formulation of research question, through to operationalisation of methodology and discussion.
The MASTER research focus is (1) to progress from evidence-based practice to evidence-based programs, and (2) to contribute to the understanding of the organisation of the neurobiological systems that underpin social and emotional functioning.
The theoretical framework and intervention programs are currently undergoing a staged process of research as outlined below:
Research Timeline
Stage 1
Parent and teacher feedback on the MASTER Intervention Program
Stage 2
Empirical observations through standardised assessments and response to intervention
Peer review
Publication of MASTER theoretical paper
Stage 3
Single case study design
Stage 4
Multiple case study design
Ask a question or discuss further with us:
⚑Homes, Schools & Professionals